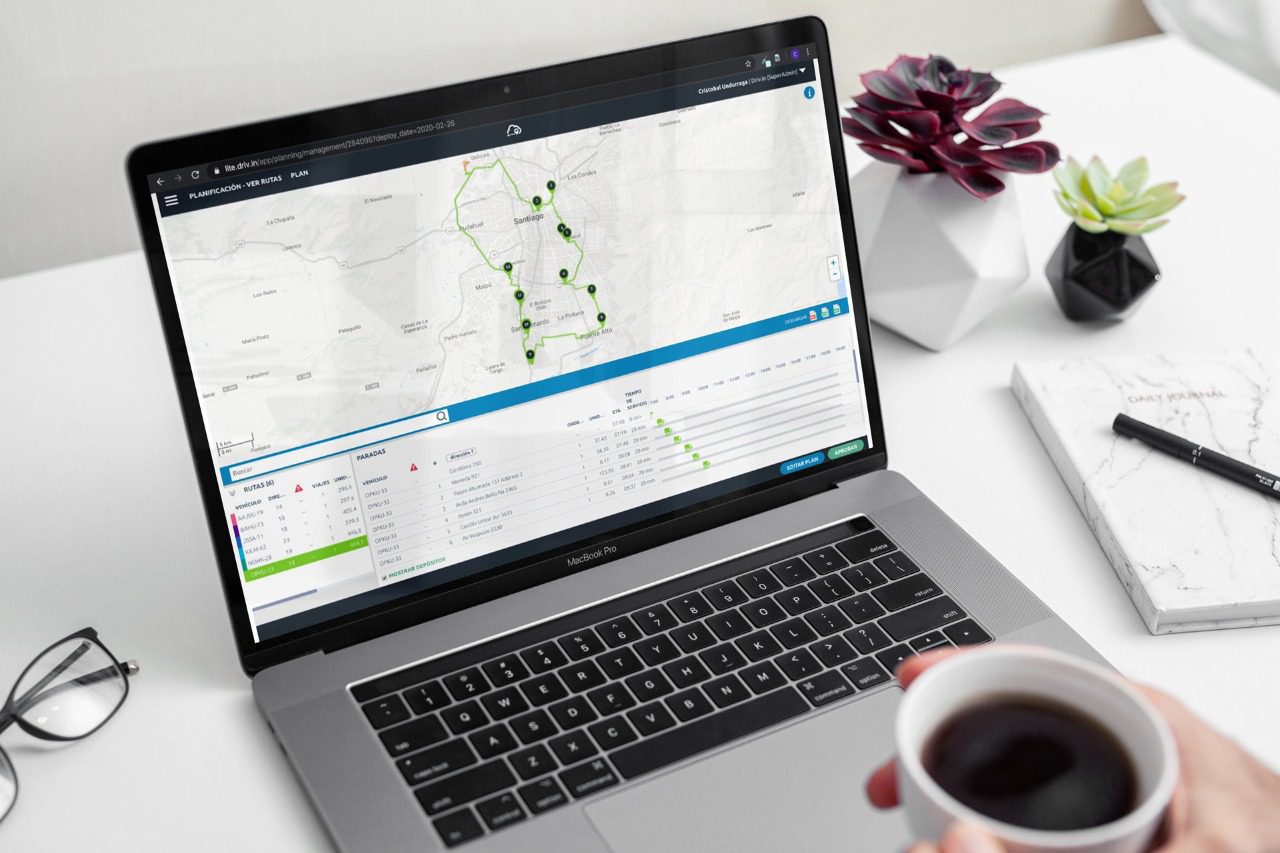 What is a TMS? A guide to Transport Management Systems
A Transport Management System (TMS) is a logistics software that, through the use of technology and AI (artificial intelligence), helps companies plan, execute and optimize their product transportation needs.
It also complies with any specific requirements, as well as making sure all the paperwork is in order throughout the operation.
What does TMS stand for? TMS stands for Transportation Management Systems, which give visibility and insights into every-day transportation operations, as well as facilitating information and data, and documentation of commercial norms, while guaranteeing delivery times of goods and products.
As well as that, TMS's prioritize the delivery process while facilitating the administration and optimization of companies' transportation requirements.
So, what do we mean when we talk about a logistic TMS? A TMS is a software, platform or digital tools that companies use to manage their logistics and transportation needs.
All in all, an effective TMS provides logistics managers with in-depth visibility into both their daily operations, and a bird's-eye view of their network's overall performance.
What is a TMS for?
A transportation management system centralizes and organizes transportation data, allowing companies to:
Plan and forecast network needs.

Optimize routes.

Manage carriers.

Run and track shipments.

Automate processes.

Handle payment and settlements.

Prepare reports on network KPIs.
What's the importance of Transport Management Systems for companies?
The importance of transportation management systems is that they have a fundamental role in supply chains. Today, we live in a dynamic, mixed market economy, with a global business environment where transactions are constantly underway.
This, paired with a boom in online transactions, has made it of vital importance to have a management system in place to help successfully navigate complex processes regarding deliveries, business policies and regulatory compliances.
It's worth noting that the implementation of a TMS has a direct impact on every part of a company's processes, starting from planning and procurement, to logistics and life cycle management.
Ultimately, the broad and deep visibility offered by a transportation management system leads to more efficient transportation planning and execution, which promotes and results in higher customer satisfaction. And, in turn, the proper use of a transportation management tool generates more sales that help companies grow and improve their profitability over time whilst increasing customer satisfaction.
What characteristics does a TMS have?
A transportation management system has relevant features that benefit businesses. Some of the main features are:
Load planning
With a TMS, shippers can easily find rates, plan routes and select carriers.
Since transportation management systems use complex algorithms to optimize each shipment, managers have the ability to save time and money throughout the entire operational process.
Load execution
A TMS automates the loading process using shipper routing guidance to digitally optimize loads to the right carrier at a predetermined rate.
So, instead of shippers manually measuring carrier capacity, rates, and throughput before shipping products, a TMS filters vast amounts of data and streamlines the selection and carrieres.
Cargo tracking
A transportation management system collects and consolidates detailed tracking information and monitors the movement of a shipment throughout its lifecycle, from warehouse to final destination.
A TMS not only allows managers to obtain real-time updates on their cargo, but also allows them to track and measure the performance of the carrier.
Payment
A TMS allows companies to automatically audit the invoice and payment of each carrier.
So, when it comes to finances, a TMS simplifies and streamlines the payment process for both shippers and carriers by providing access to freight audits, invoices, payments, and cost performance analysis.
Reports
Transportation management systems provide detailed reporting regarding carrier networks and facilities, and offer performance data to help plan and optimize the next route.
After monitoring and evaluating the extensive information provided by TMS reports, logistics managers can develop continuous improvement strategies to reduce waste, improve service levels (i.e., on-time pickup and delivery), and analyze overall cost savings.
What companies use Transportation Management Systems?
Speaking in general terms, any company related to the supply chain uses some form of TMS be that as a SaaS, or as an on-premise software. If a company needs to ship, move or receive goods, a transportation management system will always benefit them.
Manufacturers

Distributors

Wholesale and retail companies

E-commerce companies.

Companies that provide logistics services

Logistics service providers.
Organizations related to e-commerce, distribution companies, shippers, carriers and anyone else who ships products and merchandise on a regular basis can use a TMS as added value.
With this in mind, a TMS manages multiple sections of transportation management and will ultimately benefit anyone involved in the areas of planning and decision making, transportation execution and tracking, as well as reporting.
So, to answer the question on what companies use a TMS, basically, if the company has any involvement with the supply chain, it would be beneficial for them to have a TMS in place.
What are the benefits of a TMS platform?
Learn about the benefits of implementing and using a TMS in your business.
Improves technological capabilities
When implementing a transportation management system, you'll have the necessary technology to make route optimization decisions based on quotes, transit time and carriers.
Managing centralized routes with a transportation management system within the supply chain has the ability to reduce and eliminate stress and uncertainty throughout the process.
Simplifies processes
A TMS can help you simplify the carrier selection process by allowing you to assess the quality and delivery time of products, while comparing the information with other carriers within the network.
By managing the entire transportation and distribution process through a TMS, it's possible to review past shipments in order to quickly connect similar loads to the right carriers.
Load tracking
With a TMS you can track the cargo that is en-route and receive alerts about any traffic problems or unforeseen delays from a specific location.
As it is known, it's impossible to control human error, however, a transportation management system allows you to see when delays occur and why.
Reporting
Robust transportation management systems provide detailed data and indicators for comprehensive reporting.
For example, let's say you have to monitor the shipping process for 20 locations, and each location ships five shipments per week. This means that there are 100 shipping invoices to create and, in addition, 100 shipments to oversee each week.
With a TMS, all the information will be stored in one location and custom reports can be created to analyze costs and final invoices with a click of a button.
What's the difference between a SaaS TMS and an on-premise TMS?
Just like servers and other types of technology, a TMS can, at times, run through a cloud service. This is known as a Software as a Service (SaaS) or a cloud-based solution. These provide real-time data, and have huge advantages over other types of TMS.
On the other hand, an on-premise TMS is loaded onto computers in a given location. While this has some security advantages, it also presents bigger challenges.
You may need the physical presence of a technician to update the software, troubleshoot, or troubleshoot your internal network or server connection. As well as that, on-premise TMS's aren't portable, which means it might tie you down to a specific location in order to access the data.
In contrast, cloud-based TMS are automatically updated, and can be accessed from anywhere with an internet connection, thus generating greater profit in the medium to long term.
Generally, this is due to the fact that, since they're on a digital platform, users pay a monthly or annual fee to use it. Drivers, brokers, managers, and carriers can access the platform on the go, enabling collaboration, constant communication, and efficiency. In most cases, a cloud-based TMS is a better and more efficient option than on-premises options.
A cloud transportation management system offers great benefits, such as better economies of scale, a reduction in the total cost of ownership, little to no upgrade fees, and a faster ROI (return on investment).
With this in mind, a SaaS TMS provides further advantages, such as faster deployment, reduction in training and installation time, automatic updates, and increased security. Drivin is a Saas TMS that will make your logistics more efficent, let's make contact: