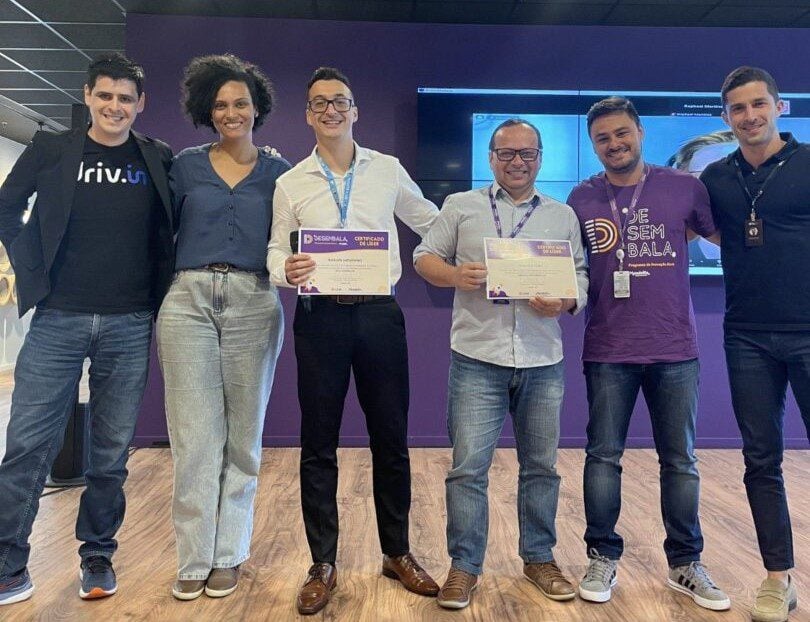 Desembala & Liga Ventures: Drivin's participation in Mondelez Brazil Demo Day
In the month of February, Drivin was proud to participate in Mondelez Brazil's Demo Day. This prestigious event is a key component of the Liga Ventures startup acceleration program for the Desembala innovation initiative.
During the course of the event, Drivin presented its innovative solutions that were developed over the course of two months. These solutions were designed to showcase the POC (Proof of Concept) and provide documented evidence of the significant benefits of its transportation management software, specifically tailored to the processes at Mondelez.
According to Pedro Avila Finocchio, Drivin's Customer Success specialist, the presentation was a resounding success. "He believes that the project will contribute significantly to Mondelēz's operations, as the concept focuses on optimizing goods distribution routes while also enhancing financial benefits and improving service levels."
✍"Desembala is a collaborative effort between Liga Ventures, the pioneering accelerator in Brazil dedicated to fostering connections between startups and established corporations, and a formidable force behind a myriad of successful programs boasting an impressive network of over 90 corporate partners. With a notable track record of accelerating over 400 startups and orchestrating more than 65 highly effective programs, Liga Ventures remains steadfast in its mission to cultivate mutually beneficial business relationships between startups and their partnering corporations." (Source: https://desembalamondelez.liga.ventures/).
The rendezvous served as a unique platform for Drivin to showcase its ingenuity and cutting-edge technological solution, effectively demonstrating its capability to proffer numerous advantages to the Mondelēz distribution network while enabling it to set tangible objectives. Moreover, it presented an excellent avenue for mutual exchange and knowledge acquisition, facilitated by the presence of the snack conglomerate's consultants.
As per Álvaro Loyola, Country Manager of Drivin in Brazil, three projects are slated to progress in diverse operations of the operational flow - namely, the first, middle and last mile.
"Loyola emphasizes the importance of a dedicated Project Management Office and team commitment to the project. He further elucidates that in any digital transformation endeavor, there is always room for improvement."
According to Raphael Martinez Feliciano, the Program Manager of Liga Ventures, the realm of startups is currently one of the best solutions in the open innovation ecosystem. Thus, having the nimbleness, proficiency, and focus offered by startups is of utmost importance for corporations. The role played by Drivin in this regard stands out remarkably.
"Drivin has exhibited a remarkable degree of commitment and professionalism throughout the program, and it has been an opportunity for us to discover the true potential of the technology. The results of the proof of concept have been encouraging, and there is still a long way to go."
Loyola's outlook for the future is optimistic and bodes well for Drivin's continued success:
"Drivin's solution is remarkably comprehensive, and it encompasses a multitude of areas within logistics as a whole. Therefore, in addition to the initial scope designed at Desembala, I firmly believe that this partnership with Mondelēz will endure for a considerable period of time, allowing the corporation to fully explore the potential of Drivin's technology and expertise."
Mondelez and Desembala
Mondelez Brazil, a renowned organization that represents a plethora of strong brands such as Lacta, Tang, and Oreo, has been exploring partnerships with numerous startups as part of its Desembala program. This program aims to provide a favorable atmosphere for the exchange and development of new ideas.
As reported by Mondelez CEO Liel Mirando to Forbes magazine, the company had planned to invest R$2 million in the Desembala program until the end of 2022.
"With this move, we are advancing our efforts to strengthen our ecosystem, making it more competitive and aligned with the business demands," said the executive. According to the publication, Mondelez has invested a total of R$400 million in innovation in recent years.
This shift towards disruptive projects has opened up new avenues for innovative companies such as Drivin, which, in addition to making its mark among accelerated startups, has showcased its technological and competitive prowess.
Drivin and Liga Ventures
In the era of digital disruption, companies that are willing to push the boundaries and seek innovative ways of doing things are the ones that stand out. Drivin, as a developer of a cutting-edge 4.0 transportation management system, is keenly aware of this paradigm shift and has been seizing every opportunity to showcase the power of its technological solutions to large organizations seeking to optimize their product distribution with quality and efficiency.
In line with this vision, Drivin has been making significant strides in the startup acceleration program offered by Liga Ventures. This program is designed to connect developers of exceptional solutions with traditional organizations eager to lead the business of the future. With this opportunity, Drivin is taking bold steps towards achieving its long-term objectives and cementing its position as a top player in the transportation management industry.
With its unwavering commitment to innovation and its unparalleled expertise in the field of logistics, Drivin is poised to achieve even greater success in the future. As it continues to explore new frontiers and push the limits of what is possible, the company is poised to make a profound impact on the transportation industry and set the standard for excellence in the years to come.